Abandoned cars line the streets and traffic comes to a standstill in Kabul as thousands rush to flee as the Taliban seizes Afghan capital, ABC News reports.
Meanwhile, crowd of people rushes towards Kabul's international airport as citizens try desperately to flee after Taliban takes control of the Afghan capital.
A U.S. official told Reuters that U.S. troops have fired shots into the air to prevent civilians from running onto the tarmac at Hamid Karzai International Airport in Kabul, where scenes on the ground show an increasingly panicked people.
"The crowd was out of control. The firing was only done to defuse the chaos and prevent the crowd from storming the runway," the official told Reuters.
Pictures from Kabul airport show thousands of Afghans waiting in hope of leaving the country after the Taliban's swift takeover of the city.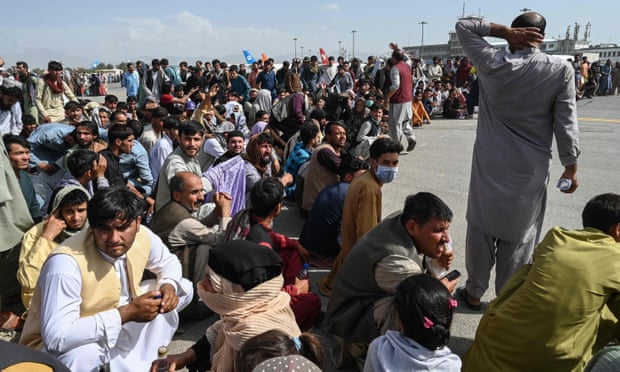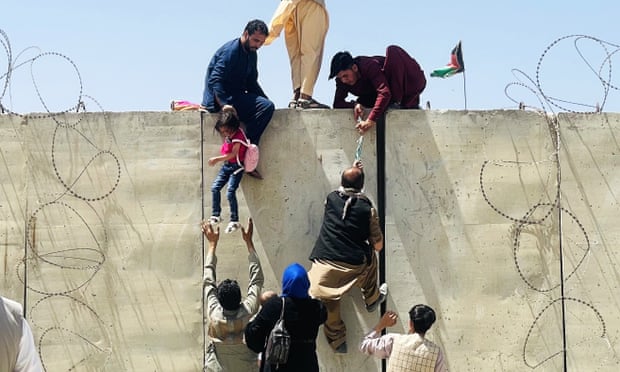 Afghanistan summary
Key developments in Afghanistan so far today.
There are desperate scenes at Kabul airport as thousands attempt to flee following the Taliban takeover. Video footage appears to show Afghans falling to their deaths from a plane after takeoff. Other footage appears to show people clinging to moving US aircraft.
US President Joe Biden will return to the White House this afternoon to address the nation about the crisis in Afghanistan.
US military flights have resumed at the Kabul airport for now, a US defense official tells CNN. The flights were suspended because of crowds of Afghans on the airfield.
The crowds have been cleared but the military anticipates continuing sporadic clearing operations if crowds continue to gather.
Unconfirmed reports are of up to five people killed at the airport amid the chaos, according to witnesses.
A US official confirmed to Reuters that American forces at the airport were "forced to fire into the air to prevent Afghans running onto tarmac to board military flights".The official said that military flights from Kabul are "only meant to ferry diplomats, foreign staff, and local embassy staff".
Taliban spokesman: 'The war is over in Afghanistan'. The spokesman for the Taliban's political office told Al-Jazeera Mubasher TV on Sunday that the war is over in Afghanistan and that the type of rule and the form of regime will be clear soon.
Senior Taliban official: 'too early to say how we will take over governance'. A Taliban leader said on Monday that it was too soon to say how the insurgent group will take over governance in Afghanistan, Reuters reports. "We want all foreign forces to leave before we start restructuring governance," the leader told Reuters by phone. He did not want to be named. He also said that Taliban fighters in Kabul had been warned not to scare civilians and to allow them to resume normal activities.
Russian ambassador to Afghanistan, Dmitry Zhirnov, will meet a Taliban representative on Tuesday to discuss security for the diplomatic mission. Russia will evacuate some of its embassy staff in Kabul "in order not to create too big a presence", the Kremlin envoy to Afghanistan said on Monday. Zamir Kabulov told the Ekho Moskvy radio station that some of roughly 100 Russian embassy staff "will be placed on leave or evacuated in some other fashion just in order not to create too big a presence".
China has urged the Taliban to keep its promise and ensure a smooth transition as Beijing figures out its strategy in the neighbouring country following the US's hasty departure.
UK defence secretary Ben Wallace has admitted "some people will not get back" as Britain tries to evacuate Afghan allies from Kabul, along with its own citizens, with British forces aiming to repatriate more than 1,000 people a day.
The Iranian president, Ebrahim Raisi, called for national reconciliation in neighbouring Afghanistan. The official IRNA news agency quoted Raisi as saying Iran will support efforts to restore stability in Afghanistan as a first priority.
European Union foreign ministers will hold emergency talks on Tuesday to discuss the crisis. The EU foreign policy chief, Josep Borrell, said in a tweet on Monday that he decided to convene the extraordinary video conference so the ministers can make "a first assessment" of developments.
Families of British soldiers who died on previous tours of Afghanistan have criticised the British and US governments' handling of the withdrawal as the Taliban start to seize control.
More stories: