Copernicus Atmosphere Monitoring Service scientists confirm that the ozone hole over Antarctica is one of the largest and deepest in recent years. According to the results of the analyses, the hole has reached its maximum size, and already surpasses the size of Antarctica.
The Copernicus Atmosphere Monitoring Service (CAMS) reports that the ozone hole has reached its maximum extent. It is one of the largest and deepest discovered in recent years.
Stratospheric ozone concentrations have been observed to have dropped to near-zero levels over Antarctica at altitudes ranging from 20 to 25 km (50-100hPa), with the ozone layer depth falling just below 100 Dobson Units, roughly one-third of its normal value outside of ozone hole events. A strong, stable, and cold polar vortex is driving this. CAMS scientists are seeing signs that the 2020 ozone hole is beginning to close.
"There is much variability in how far ozone hole events develop each year. The 2020 ozone hole resembles the one from 2018, which also was a quite large hole, and is definitely in the upper part of the pack of the last fifteen years or so", comments Vincent-Henri Peuch, Director of Copernicus Atmosphere Monitoring Service at ECMWF.
He added: "With the sunlight returning to the South Pole in the last weeks, we saw continued ozone depletion over the area. After the unusually small and short-lived ozone hole in 2019, which was driven by special meteorological conditions, we are registering a rather large one again this year, which confirms that we need to continue enforcing the Montreal Protocol banning emissions of ozone depleting chemicals."
The ultraviolet light emitted by the sun is absorbed by atmospheric ozone. Because it is no longer present, more of this high-energy radiation reaches Earth, where it can harm living cells.
Ozone hole over Antarctica is larger than usual
Peuch noted that last year's ozone hole also started out unremarkably but then turned into one of the longest-lasting ones on record.
Record-low ozone levels currently stretch across much of the central Arctic, covering an area about three times the size of Greenland (see 'Arctic opening').
"From my point of view, this is the first time you can speak about a real ozone hole in the Arctic," says Martin Dameris, an atmospheric scientist at the German Aerospace Center in Oberpfaffenhofen.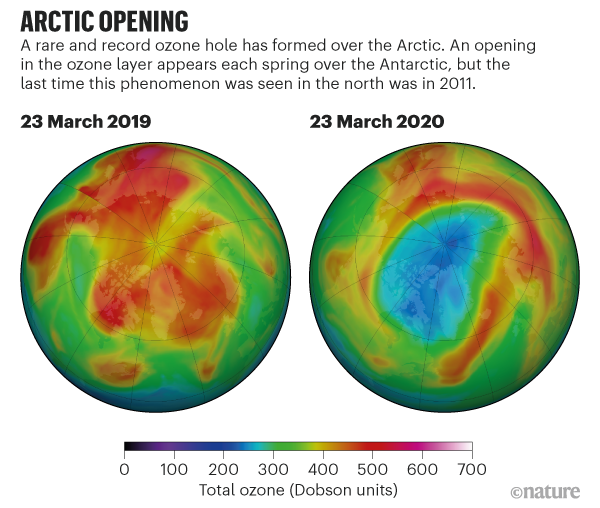 Experts say it's likely to take until the 2060s for ozone-depleting substances to be completely phased out.